My SweetPea and Fay order arrived today! I ordered four "J'Adore Les Levres" liquid lipsticks in Ranunculous, Mermaid Kiss, Penelope, and Yeti.
I also got a free eyeshadow in 'Shibalba' (full size, not a sample!) which is really cool of them. It's a shimmery yellow-gold, definitely a colour I'll use. But this post will be about the lipsticks :)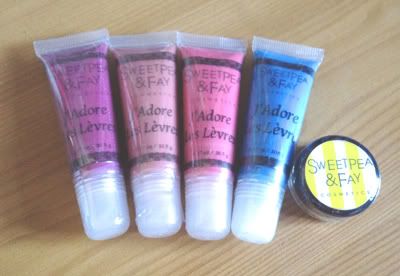 These lippies come in squeezy tubes with a plastic applicator on the end. It's not my fave packaging ever I must admit, I prefer tubes that come with a wand. I found it difficult to squeeze the product out, but that might be because I only have my left hand, lol. I tried applying straight from the tube but found it easier to just use a lip brush.
Here's what SweetPea & Fay say about these lipsticks:
"J'Adore Les Levres tubes are VERY VERY pigmented. They glide on with a rich creamy texture and a soft french vanilla flavor. Lightly blot for a liquid lipstick look or build up for a more glossy shine."
Swatches on my lips:
Ranunculous
"soft pastel pink"
I love this shade, it's one of my fave shades in lipstick. Very thick, creamy formula.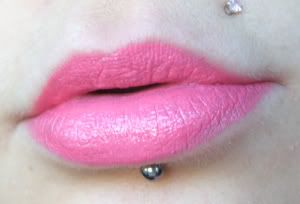 Mermaid Kiss
"neon hot pink"
Very bright and eyecatching colour. Creamy and opaque which seems to be the norm for these lippies.
Penelope
"Opaque redish purple, with just a hint of lip stain"
I don't know about the stain because I only wore it to take pics, however the colour is stunning and I found the consistency the easiest to work with.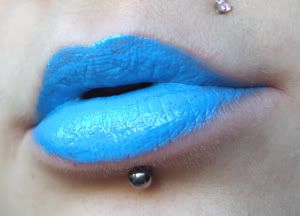 Yeti
"neon blue"
Lol, yes, I'm getting a bit addicted to odd lip colours! This is very VERY creamy and opacity definitely not a problem!


For a bit of fun, I tried a lip ombre with Yeti and Mermaid Kiss, lol:
It came out a bit wrong, haha
All in all, I'm a big fan of these lippies! Packaging aside, I think they're a great quality product for the humble $7.99 price tag. If you buy only one shade, I'd recommend Penelope, it's my favourite out of the four!
What do you think? Will you try them?
If you want to buy, they are available from
SweetPea and Fay's website
. Shipping to the UK for 4 lipsticks was $4.50 which is very reasonable!