Hi all! I haven't posted in a while, because I went on a short holiday to Stratford-upon-Avon (Shakespeare county! Loved it, btw) and have been preoccupied with course work. But I received my order from Morgana Cryptoria today, so I thought I'd post!
I ordered four lipsticks in Peach Champagne, Fiery Pumpkin, Apple Plum, and Electric Azalea, and two gel lipsticks in Persephone and Athena.
I had to pay £15.06 customs charge *grumble grumble* Most stuff I order from the US slips by, but unfortunately not this time!
They arrived in a cute little bag which was a nice touch :)
Swatches of lipsticks (descriptions from Morgana Cryptoria website):
Peach Champagne
"Peach with gold tones and a pearl sheen."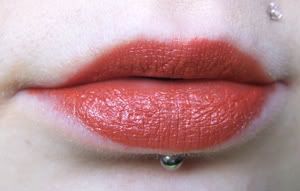 Fiery Pumpkin
"A shimmer of gold and red on a rust-orange base."
Apple Plum
"Muted red with just a hint of plum sheen."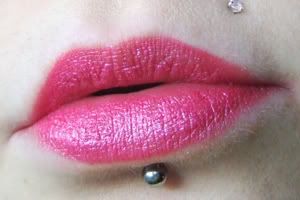 Electric Azalea
"Vivid pink with sparkles that change blue-violet to red-violet."
Gel lipsticks: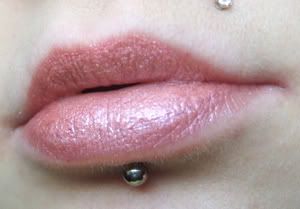 Persephone
"Pink champagne that shifts peach-gold-green."
Athena
"Red toned purple with sparkles that change red to orange-gold."
The regular lipstick formula is really nice and long wearing on me. I really love Fiery Pumpkin, and had to snap it up when I saw it was to be discontinued. My favourite though is Electric Azalea, it's a really striking pink!
The gel lipstick was a little harder to apply, the formula is quite thick so very thin coats should be applied in layers, with a light hand. Morgana Cryptoria advises that you don't purse your lips or rub them together as it unsettles the finish. Apparently they are liable to melt in high temperatures - luckily I live in cold rainy England, lol. I guess if they felt too soft, I could stick them in the fridge. Both Persephone and Athena are gorgeous colours, and look very glossy as you can see.
You can buy these lipsticks from
Morgana Cryptoria's website
. She sells other makeup too, so check it out if you haven't already :)
I'll be posting some more NYX lipstick swatches soon, so you'll soon be bored of seeing my lips all the time! Lol! I'm a total lippie addict obviously, so if you want to recommend me lip products to try out, please do so!