Hi all! Just want to say thanks to all my followers for reading my blog. I am going to be going through my list of blogs that I follow and unfollowing a few, as it seems many people drop by my blog saying "follow me" and then they don't follow me back (Could I use the word "follow" any more in a sentence!? Lol!)
I also seem to be following a lot of blogs that are in foreign languages without a translation, I'm afraid I'm typically lazy and don't want to run posts through a translator so I'll be unfollowing some unless they're about things that really interest me.
I'm mainly here to follow beauty blogs. Fashion doesn't interest me so much. If fashion bloggers want to follow me I really do appreciate it, though. I will follow a few but not a great deal. I'm bad at fashion, I usually just wear whatever I want and don't follow trends religiously. :)
I don't blog every day and am rarely online so a lot of blogs I follow seem to slip through the net on my reading list, which isn't really fair and another reason for a clean up!
Just so this post isn't text-only, here is a nail polish you all must see! I'm late to the party on holographic nail polishes I know, but I love this one. It's by Nfu Oh! and the shade is 61.
I apologise for the state of the skin around my cuticles, I haven't really looked after my hands very well since my surgery!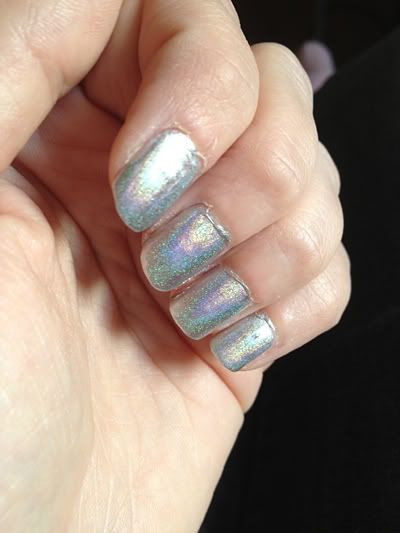 Bye bye for now!